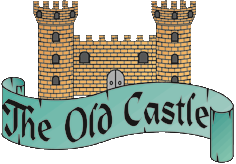 Cari ascoltatori,
"The Old Castle": siamo un complesso Rock Progressivo, attivo dal febbraio 1995, e siamo alla ricerca di for​me musicali che non seguano i soliti stereotipi canzonettistici, ma che si concludano in espressioni musicali compositivamente più complesse.
La musica r​ock che proponiamo non segue il solito schema strofa-ritornello e si accosta come stile ad idee già espresse da alcuni gruppi attivi negli anni '70.




Dear listeners,
"The Old Castle": we are a Progressive Rock ensemble, active since February 1995, and we are looking for musical forms that do not follow the usual song stereotypes, but that end in compositionally more complex musical expressions.
The rock music we offer does not follow the usual verse-chorus pattern and approaches in style to ideas already expressed by some groups active in the 1970s.